This is my hometown. I live in Thousand Oaks, CA.
Our beautiful, tight-knit community, consistently rated one of the top safest cities in America, experienced heartbreaking loss and extreme devastation this past  week. We are in mourning.
I'll start at the beginning:
Last Thursday, my husband Alex and I woke to a text from our niece, who's  deployed in South Korea. I'm thinking of you today, sorry to hear the sad news in Thousand Oaks.
"What?" I said. "What sad news is she talking about?"
Alex checked his phone and we could not believe it.
A mass shooting. HERE. In Thousand Oaks. Last night at Borderline.

Our oldest daughter, Mackenzie, is 26. Our youngest, Talee, is 23. They've been to the  Borderline Bar & Grill numerous times. It's a super popular place for college-aged kids and country music.
Wednesday was "college night," for those 18 and over. I shuddered when I thought of how our girls were excited to go there when they turned 18.
Around 11:15pm, the line-dancing and laughter turned to horror. The gunman walked in, threw a smoke bomb and started firing. He killed 12 people. Then shot himself.
Alex and I watched the news all morning, stunned. I couldn't wrap my head around the fact that the city of Thousand Oaks was now on the list of mass shootings. Emotions swirled through my mind. Shock, sadness, confusion, anger. Another mass shooting? 
If it can happen here, it can happen ANYWHERE.
I sat in front of the TV and tried to eat breakfast. I felt sick and heartbroken. The news reports said that families of victims were gathered at the Thousand Oaks Teen Center, where our girls used to play basketball and go to dances when they were in middle school.
But Thursday morning the Teen Center served a grim purpose.
That's where parents anxiously waited to find out if their sons or daughters were still alive. Even though I don't know them, those mothers and fathers going through that hell are my neighbors. Our kids are similar ages, have attended some of the same schools, we visit the same shops, restaurants, and movie theaters.
I couldn't fathom the pain. One father spoke to a reporter, constantly dialing his phone, desperate for his son to answer.
I got the chills when I heard the shooter was two years older than Mackenzie and went to the same high school. Even though she didn't know him, she knows other kids who did.
Literally — this was too close to home.
An outpouring of love flooded social media.
Details were just coming out. No victims had been named, except Sheriff's Sgt. Ron Helus. I knew that as the day went on, we'd hear stories of people we know who were injured or killed.
My friend told me that her friend's oldest son died. My daughters know a girl whose brother was killed. A boy Talee went to high school with jumped out of a window to escape, and was hospitalized with severe cuts from broken glass.
Another boy Talee went to school with, and I've known since elementary school, saw the gunman walk into the bar and start firing. He got down on the ground and ran when he could. He had also survived the Route 91 shooting massacre last year in Las Vegas. There was another victim of the Vegas shooting who was at Borderline. He survived in Vegas, but was killed in his hometown.
After watching the TV for several hours Thursday morning, and reaching out to friends and family, I tried to take a break from the horrific news. I did some yard work and paid a few bills. Then I got a call from my mom.
"Jenny, I'm on the freeway, and I see smoke. It looks like it's near you. Do you see it?"
"No." I peeked out my office window. "Wait, I do see something."
Alex and I went to the backyard and saw a huge plume of smoke. Within minutes, the smoke cloud turned bright orange and grew.
As bad as it looked, we didn't think it was that close. We were hoping it'd be put out quickly.
Less than half an hour later, we got the text and phone call emergency alerts from the Ventura County Sheriff's Office: "Your neighborhood is now under a mandatory evacuation order. The threat is imminent, please evacuate the area immediately."
WHAT? Can this really be happening?
Alex brought me boxes and I filled them with important papers, jewelry, and external hard drives. He took pictures off the wall and unplugged the computer. Adrenaline rushed through my body. I was jittery and my heart was racing. I forced myself to take a deep breath and calm down. I thought about the shooting.
The parents of the victims will never see their children again. Mine are safe at work, an hour away. Those killed never had time to prepare and get themselves to safety. But I do. I have time to pack and get out of harm's way. They didn't have that luxury.
Those thoughts helped put things into perspective and get me through our current crisis.
We didn't have time to process the reality that there was a mass murder in our town. And then we had to face another catastrophe.
We went from being in shock from the shooting, praying for the victims and their families, to being stunned from the fast-moving firestorm, praying that our home wouldn't burn.
Alex and I drove away from the home we've lived in for the past 19 years, confident we had all we truly needed. The road out of our development was jammed. Cars were stuffed with precious belongings and the look on people's faces was nervous, frantic, disbelief.
The Thousand Oaks Teen Center went from a gathering place for families of shooting victims to a fire evacuation center. All in one day.
We had lots of offers from family and friends to stay with them. The problem was, so many roads and freeways were closed, we couldn't possibly get there. We went to one of our daughter's apartments in Los Angeles, and the second night, slept on sofas at my parent's house.
Over the course of two days, 250,000 people in Thousand Oaks and surrounding areas were evacuated.
We felt such relief when our evacuation order was lifted, two days after the fire began. We're safe and our home is too. We're beyond grateful.
My heart breaks for the hundreds of people who have lost their homes in the Southern California fires. Two people died in their car, trying to escape the flames.
As I write this, the Santa Ana winds gust wildly. I look out my office window and see water-dropping planes and helicopters fly overhead on their way to retrieve more water. Fire continues to rage in Malibu and neighboring cities.
Alex just told me there's another flare up. I went out to our backyard and a gigantic cloud of black smoke is creeping over the mountain. I see bright orange flames. Here's what it looks like:
We haven't  unpacked our car yet… just in case.
I can't express how much appreciation we have for the firefighters and first responders.  They are working tirelessly, saving lives and thousands of homes. Saying 'thank you' doesn't seem like enough.
Thanksgiving is next week, and we have so much to be thankful for. We're hosting this year, there will be 23 of us. I'm looking forward to our family filling our home with hugs, laughter, and love. These tragedies have given Thanksgiving even more meaning.
I pray for the firefighters, for those who died in the fire, and for the people who don't have a home to return to.
I pray for the families of the Borderline shooting victims, the survivors, and the twelve beautiful souls who lost their lives much too soon.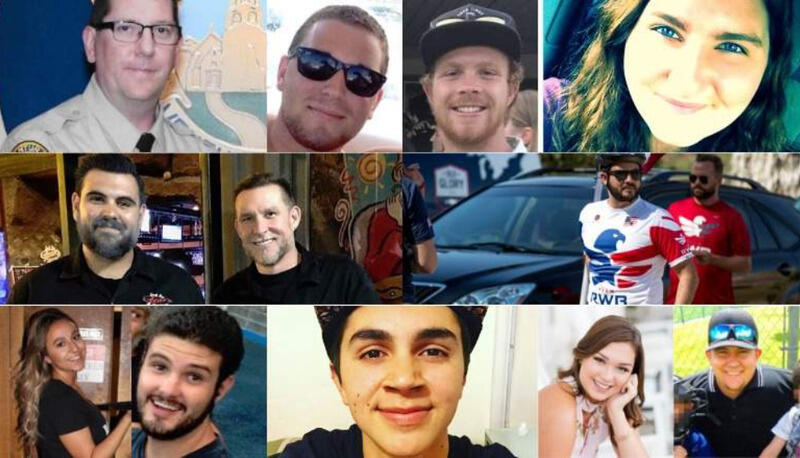 Our community will never be the same. We'll never forget the horrific day our lives changed forever.
But we are strong, as we support and love each other. The countless acts of kindness, generosity, and heroic efforts are what will get us through.
In the midst of all of this heartache and disaster, it may not seem possible, but eventually we'll heal and rebuild.
Together… We are strong.
Thousand Oaks Strong.
"The greatness of a community is most accurately measured by the compassionate action of its members." ~Coretta Scott King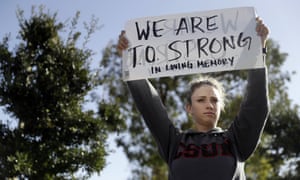 Second image courtesy of here
Fifth image courtesy of here
Sixth image courtesy of here
Seventh image courtesy of here
Eight image courtesy of here
Ninth image courtesy of here