I just heard a great message in the men's locker room.
No, no, I wasn't actually in there. I watched a new webisode series on my computer, called "Locker Room Talk." It's hosted by National Basketball Association star Kevin Love. Sponsored by Schick Hydro, the purpose of the videos is to raise awareness and funds for men's mental health.
The five-minute videos are geared toward men, but of course, women can watch too! I loved each interview. Kevin and his guests are open and honest about dealing with their mental health issues.
Earlier this year, Kevin Love wrote an essay, opening up about his struggles with anxiety, panic attacks, and depression. There was an outpouring of support on social media, and countless others were inspired to also speak out.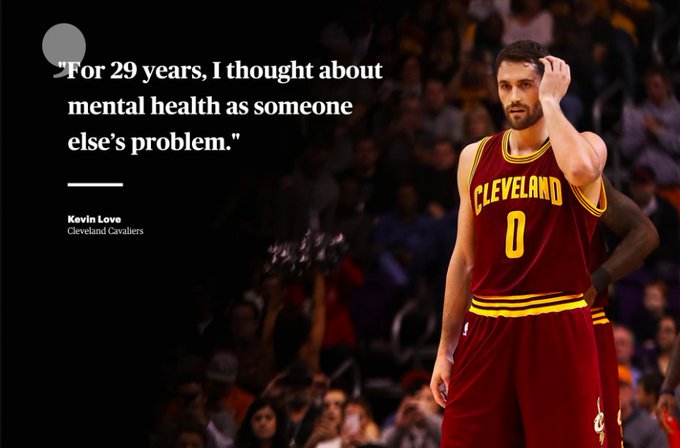 Kevin said, "People don't talk about mental health enough. And men and boys are probably the farthest behind."
Back to "Locker Room Talk"… The series has an initial trailer and three episodes. Kevin interviews Olympic gold-winning swimmer Michael Phelps, Kevin's friend and teammate, Channing Frye, and basketball legend Paul Pierce, who played for the Boston Celtics.
First up, Michael Phelps:
Michael has suffered from depression and thoughts of suicide. He's candid about his mental illness and admits he still struggles.
"I don't ever want my medals to define who I am," Michael says. "What I'm doing now — to have the chance to save a life — is better than ever winning a gold medal."
Next is Channing Frye:
Channing sat out the 2012-13 basketball season due to a heart diagnosis, an enlarged heart. He was able to return in 2013, but says he's had severe anxiety about his condition, and his game.
Yoga, meditation, and mindfulness have been life-changers for Channing. He stresses the importance of talking about your problems. "Speaking your truth is liberating," he said. "It's okay to be vulnerable."
And Paul Pierce:
Paul was brutally stabbed outside a nightclub in 2000, which led to anxiety and depression. He says he doesn't like to be in crowds anymore, and it's really hard for him to go to the mall, movies, or amusement parks. He says his mental illness affects not only himself, but his family too.
These four men are an inspiration. Let's continue the conversation on mental health. It doesn't matter if you're at home, work, or in the locker room — just keep talking.
It's okay not to be okay.
You are not alone.
First image courtesy of here
Second image courtesy of here
Fourth image courtesy of here
Fifth image courtesy of here
Sixth image courtesy of here