I can't get something out of my mind and I want to share it here with you.
I often write about my experiences as a speaker for the National Alliance on Mental Illness (NAMI)'s in-school mental health awareness campaign, Ending the Silence. I visit high schools and talk to students about the signs of mental illness and what to do if they notice those symptoms in themselves or a friend.
Two weeks ago, my co-presenter and I went to a local school and presented four Ending the Silence programs to 140 freshmen.
The kids always leave an impact on us, but this time it was especially insightful.
A little background… following the presentation, we have a question and answer session. Some classes are really quiet and it's hard to get the teens to participate. I totally get it. Anxiety, depression, bipolar, OCD, PTSD, eating disorders, and suicide are not easy topics to open up about. Especially in front of peers.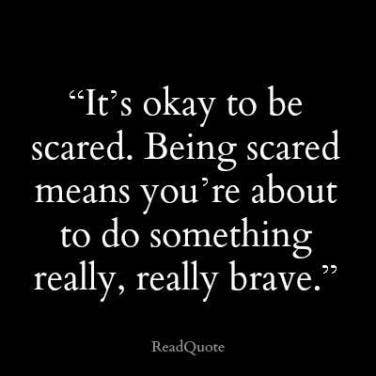 But that day, we had questions like these:
What do you do if you think an adult you know has a mental illness, but they refuse to listen to you, as you're just a kid? How do you make them to go to the doctor for help?
How did you try to kill yourself? (directed to my co-presenter, who speaks very openly about her depression, OCD, PTSD, and suicide attempt)
How do you know if you really have depression? Because all teenagers are anxious or depressed. Aren't they?

I often wonder if the kids ask questions from personal experience or if they're simply curious. I never know what impact our words have on them. I never know who we're going to reach.
When the presentation is over, a few students usually stay to talk with my co-presenter and me. I know it's hard for them to do that. Some don't want their friends to see that they're going up to talk to us. Some are too embarrassed. It takes courage to talk about problems — especially mental health issues.
It's scary to be vulnerable.
I'll never forget the three who opened up to us that day two weeks ago.
There was a girl I noticed when I was in front of the class speaking. I can't pinpoint why, but maybe because she looked like she was paying careful attention to what we said. She asked several questions during the Q&A, mostly about how to handle an adult with a mental illness. She walked up to my co-presenter and burst into tears. I didn't hear what she said. I found out later that the girl's dad has a mental illness and is abusing her.
At the same time my co-presenter was helping her, another girl came up to me. Her hands shook and tears streamed down her face, as she told me about her family situation. She said she has anxiety and panic attacks, and had a panic attack while I was speaking. She wanted to leave, but didn't because she thought it'd be rude. I assured her it wouldn't have been, and I completely understand. (I'm recovered from panic disorder and agoraphobia). We discussed how to talk about her problem with her mom, so she can get medical help. She gave me a big hug before she left.
Another girl came up to us, visibly shaking as she told us about her severe anxiety and panic attacks. She paced and it was hard for her to look us in the eye. She said her mom has anxiety too. They both haven't seen a doctor because her mom says they don't have enough money. We came up with some ways for her to bring up a conversation about mental health with her mom, and try to find a way to get help.
I never would've guessed that those teens are going through such serious, challenging times. It doesn't show on their faces, on the surface.
That's why I give the students this gentle reminder: Be kind. You never know what someone else is going through. Be there for each other.
It's okay not to be okay.
First image courtesy of here
Second image courtesy of here
Third image courtesy of here
Fourth image courtesy of here